EVO 2023 just wrapped this last weekend. It was my second time attending, and it was even greater than last year. Attendance absolutely dwarfed last year's numbers thanks to the release of Street Fighter 6 and the place was packed. You could definitely feel the crowd as you moved through the place. Between the conference days and the finals, the energy was electric.
This year, I signed up to compete again, this time in both Guilty Gear Strive and Street Fighter 6. I only had a single goal: don't go 0-2.
I went in feeling like I hadn't practiced enough, that I'd slacked on my big plans for a year full of kicking ass at fighting games. In a way, it's true. I played Guilty Gear once in the three months leading up to EVO. Partly because of their constant online issues, but also because I was spending my time on a dozen other things. I wasn't going to let that stop me, I had a mission. I nearly played non-stop for a few days prior to flying to Vegas, my muscle memory was still there, things were going to go swimmingly.
Day one was a full one. My pools were at 10am and 1pm, and one of my friends there with me had his at 2pm and 6pm. We got all the practice in that we could, and then it was time to play. Guilty Gear came first. My hands were sweaty, I couldn't stop cracking my fingers and shaking my shoulders, like any extra warming up was going to make the difference. I went 0-2. It was frustrating, absolutely. I went up against two of my personal worst match-ups: Jack-O and Sin. The latter was even kind of close, which made it hurt that much more. Regardless, I shook it off, made friends with my opponents, and made sure it didn't shake my mental for Street Fighter.
My Street Fighter pools started off with a rough loss, knocking me down into losers where I faced a Manon mirror match. Which I won. I won one! My first ever EVO win. It felt awesome. It still feels awesome! Yes, I lost my next match against a JP that I had no idea what to do against, but I won a match. I didn't go 0-2. No. I went ONE and two. Amazing.
The rest of the day was spent watching my friend's pools runs. He made it out of round 1 pools in both Guilty Gear and Street Fighter. The dude is so good. So he had more fighting ahead of him on day two. We spent the rest of the day goofing off in the convention center and getting some good grub.
Day two we returned to the convention center, watched my friend's sets, then spent the rest of the day walking through artist alley and the various vendor booths. There are so many talented people in there, so naturally I came back with way too much art that I have to find a home for. We got to play a bunch of awesome indie fighting games, including one where you play chess but when a piece is captured, you throw down in a fighting match. I need that one stat. We also spent some time at the Capcom booth for prizes, where we got one of my favorite pictures of the event.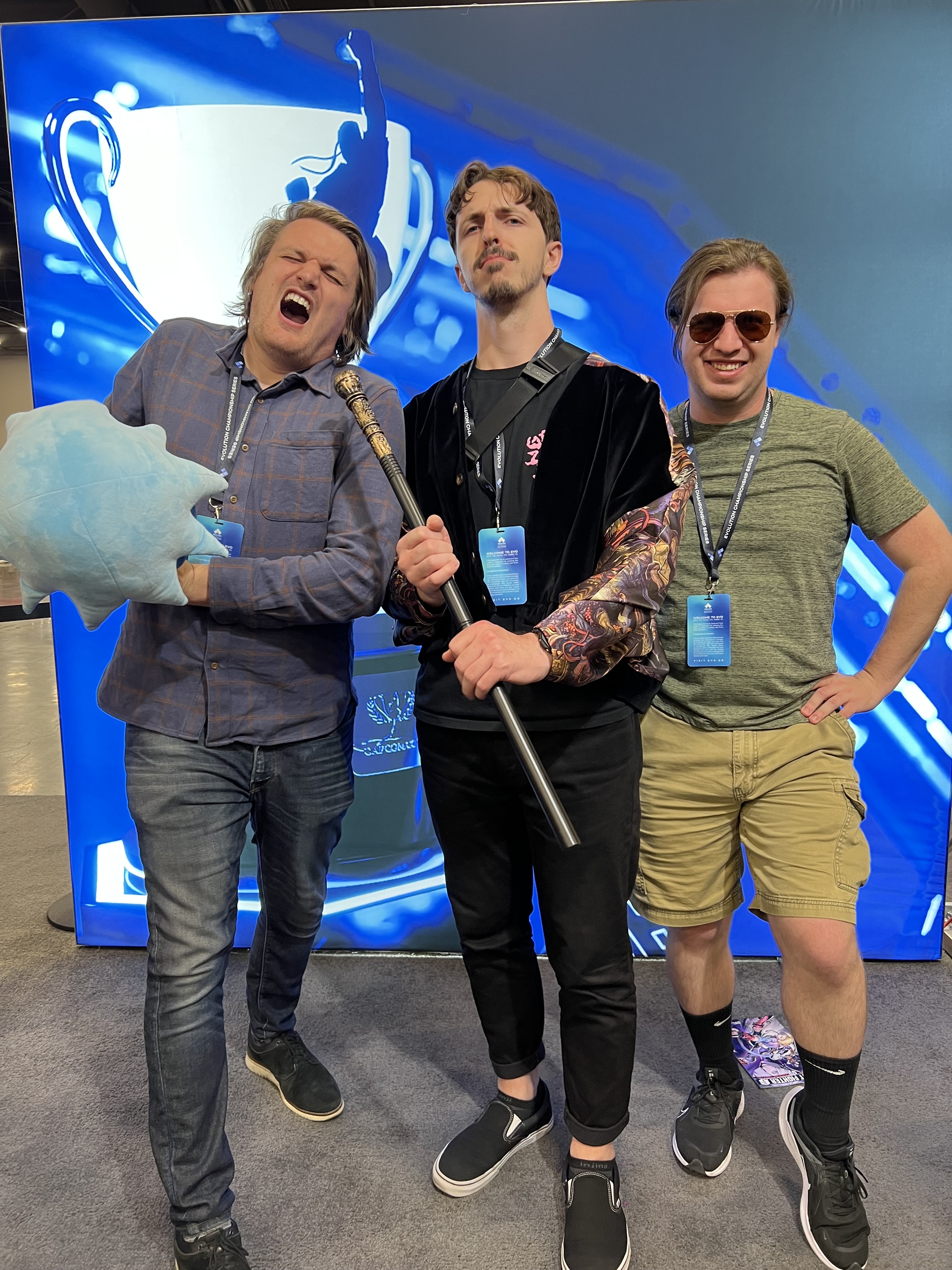 He's throwing a hadouken, not being eaten, don't worry.
On the day of finals, we ended up in the HyperX esports lounge in the Luxor. Thankfully we showed up early enough to snag some great seats, because the place started to fill up way beyond capacity once Street Fighter 6 came on. I made even more friends there, screamed until my lungs stopped working, and watched some of the greatest sets of the year.
Somehow this year was even more of a blast than the last and I can't wait for EVO 2024.